---
Words and image – Taunton Town Council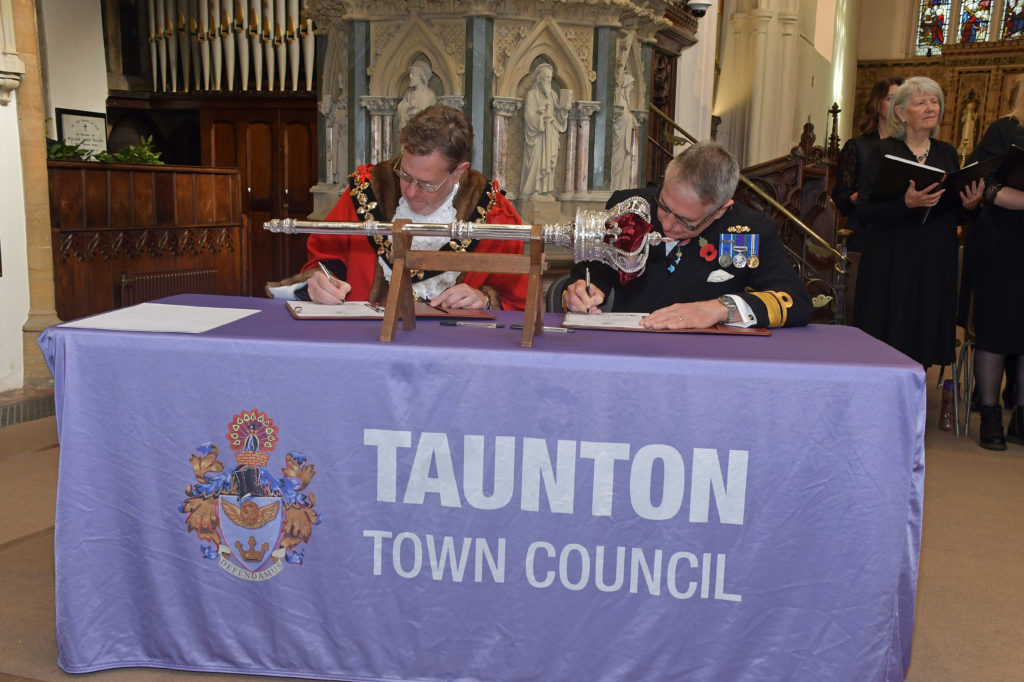 As part of a service of dedication for the Field of Remembrance at Taunton Minster, on 9 November 2023, Taunton Town Council signed the Armed Forces Covenant, to become the 1135th organisation to adopt the Armed Forces Covenant in the South West, among the nearly 12,000 businesses who have already made their pledges across the UK.
The Armed Forces Covenant is a promise from the nation, ensuring that those who serve or have served in the Armed Forces, and their families, are treated fairly.  A wide variety of organisations including businesses, from sole trader to multinational, public bodies or charities, who wish to support the Armed Forces community, can sign the Covenant and publicly declare their commitments.
Taunton Town Council's Covenant commitments include Promoting the Armed Forces, leading on organising and supporting events such as Armistice Day and Remembrance Sunday, and support to Reservists, Service leavers, veterans, as well as Service spouses, considering the unique demands placed upon service personnel and their families. No member of the Armed Forces Community should face disadvantage in the provision of public services compared to any other citizen.
MoD's Defence Relationship Management Regional Employer Engagement Director, Jon Beake, said "It's fantastic that Taunton Town Council joins over 1100 organisations across the South West that have pledged their support by adopting their own Armed Forces Covenants; it's been a pleasure tailoring the pledges with them to make them relevant and mutually beneficial. It was also great that they chose to sign in in combination with the service of dedication for the Field of Remembrance on 9 November at Taunton Minster accompanied by the Taunton Military Wives Choir."
Cllr Nick O'Donnell, the Mayor of Taunton said
"I'm proud to have signed the Armed Forces Covenant on behalf of Taunton Town Council. As a town with strong connections to the Armed Forces, it feels particularly important to explicitly express our support for those in our community who have served in the military, in any way we can."
To find out more about how your organisation could benefit from pledging their support to the Armed Forces community contact Regional Employer Engagement Director, Jon Beake, on wx-reed@rfca.mod.uk. To find a list of all those who have signed up to the Armed Forces Covenant visit www.armedforcescovenant.gov.uk
---