---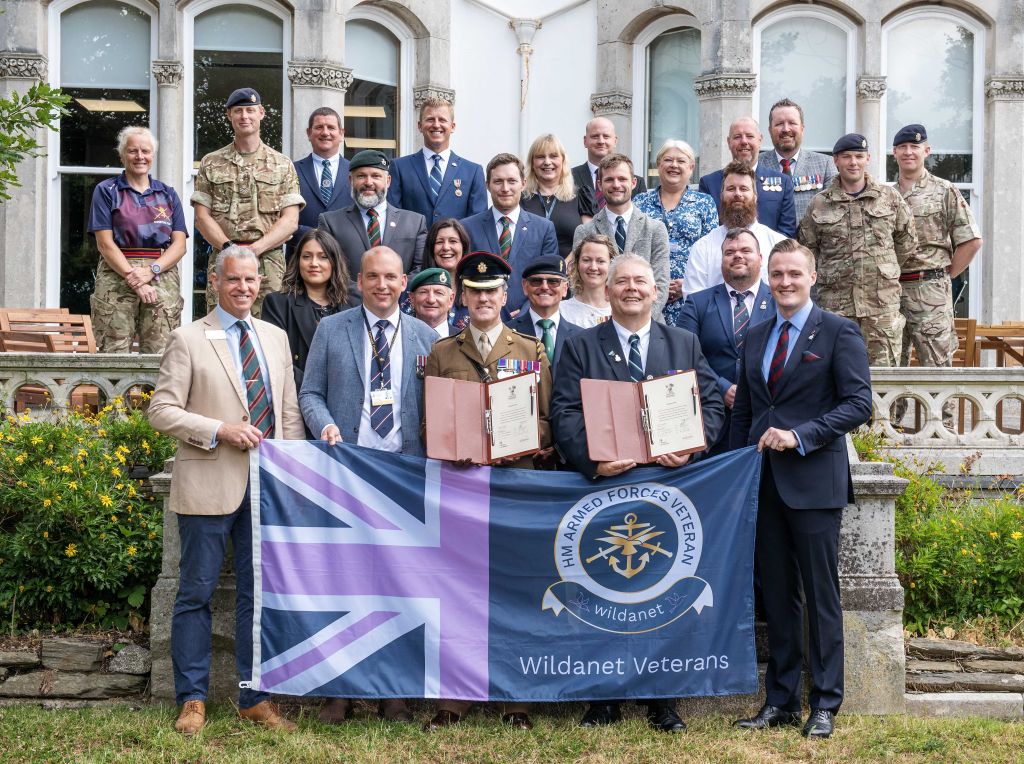 Wildanet proud to sign Armed Forces Covenant, reinforcing its support for veterans and ex-service personnel
Cornwall-based broadband provider Wildanet has celebrated its official signing of the Armed Forces Covenant, reinforcing the company's dedication to supporting veterans, ex-service personnel, reservists and service families and providing opportunities for career development.
Several of the many ex-service personnel already working for the company were gathered to witness the ceremony at Wildanet's Liskeard headquarters, along with representatives of the Armed Forces Association and the Army.
It comes in a week when the country prepares to celebrate Armed Forces Day, on Saturday June 24, which will see Wildanet deploy a team of veterans to set up all the necessary high speed Wi-Fi and comms infrastructure for the action-packed Armed Forces Day National Event taking place in Falmouth.
The Armed Forces Covenant is a pledge made by businesses and organisations to acknowledge the value of veterans and service personnel and their contributions to society. By signing the covenant, Wildanet demonstrates its recognition of the immense talent and expertise possessed by individuals who have served in the military.
Wildanet is driven by a strong ethos of inclusivity and inclusion, both in its operations bringing high speed broadband to hard-to-reach communities in Cornwall and Devon, and in the way it manages its own business, recruitment and training. Its team already includes a significant number of ex-service personnel, with 34 veterans at Wildanet out of a total workforce of 184.
The company recognises the value that veterans bring to the workforce and actively supports their transition into civilian careers. Through ongoing support programs, Wildanet enables veterans to leverage their unique skill sets, ensuring a seamless transition into high value employment with the telecoms industry.
Paddy Paddison, Wildanet Chief Technology Officer, and himself a veteran of the Royal Corps of Signals, signed the covenant on behalf of Wildanet, with Major John Porter, Officer Commanding 232 Port Squadron, based in Bodmin (part of 165 Port and Maritime Regiment RLC), signing on behalf of the armed services.
Paddy Paddison expressed his enthusiasm for the company's commitment to the Armed Forces Covenant, saying: "At Wildanet, we deeply value the dedication, resilience, and expertise of individuals who have served in the armed forces. By signing the Armed Forces Covenant, we reaffirm our unwavering support for veterans and ex-service personnel, providing them with the necessary resources and opportunities to build successful careers outside the military. We are proud to be part of a nationwide initiative that recognises and celebrates their contributions.
"We are also very excited to be supporting the Armed Forces Day National Event in Falmouth where, most appropriately, we have chosen a team of veterans from within Wildanet who will be putting the communications infrastructure in place. This will include providing wireless internet access to about 120 traders/stands during the event, together with the connectivity to enable live streaming and commentary of the Red Arrows and other activities and air displays on to a big screen in events square."
Jon Beake, Regional Employer Engagement Director for Wessex RFCA (Reserve Forces and Cadet Association), said: "We are thrilled to welcome Wildanet to the growing network of organisations committed to supporting our armed forces community. Through their extensive support programs and commitment to providing career opportunities, Wildanet sets a commendable example for other businesses to follow. We are delighted to collaborate with Wildanet in honouring our veterans and ensuring their successful integration into civilian life."
Wildanet – founded in 2017 to bring high speed internet to rural and hard-to-reach areas across the South West – is rapidly growing its fibre network in Cornwall and Devon, guided by a strong ethos and mission to drive digital inclusion.
The company has created more than 150 high quality jobs in the area already and is recruiting around 200 staff having won a £36m Government contract earlier this year to connect thousands more premises in Cornwall to gigabit fibre. The company has also launched the Wildanet Academy and apprenticeship scheme, investing in and training the talented workforce of tomorrow.
---